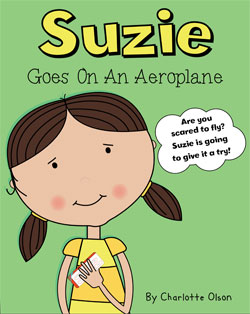 Bought to our attention by our friends at Virgin's Flying Without Fear course in the UK, children's author Charlotte Olson has written a beaut kid's book aimed at helping ease the fear of young children about to go on their first flight.
"Suzie Goes on an Aeroplane" is a short illustrated book filled with rhyming language that takes a youngster along on her first flight. Originally written to assist autistic children, the book is likely of interest to any child (and parent) about to embark of their first journey in the sky.
This very affordable book is available from the author's website as an actual book or as a downloadable PDF, ideal for viewing pre-flight and taking along for the ride.
While the book has a female main character it is, of course, of interest to boys as well, with the material presented about flying in it's fun and pleasant way being the key. Nonetheless, from the Charlotte's website we learn that she has a boy-version in the works… Sammy Goes On An Aeroplane, coming soon!
As a bit of fun, she has also produced an animation of the book which we understand will be available for viewing onboard Virgin Atlantic flights. Well done Charlotte! Here's a taste of the video for your viewing pleasure…