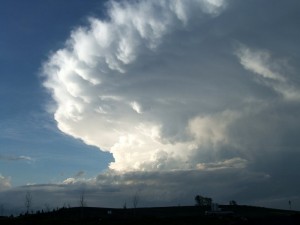 Rest assured, your pilots are no stranger to bad weather. While you might work in a factory, or in an office, pilots work in the sky and they study it's characteristics every time they fly.
I'll tell you that, generally speaking, thunderstorms are no reason not to fly as the characteristics of thunderstorms are that they are ISOLATED cloud/weather structures. That means that there is space between the storms; time when the weather is NOT a thunderstorm.
Pilots can see this weather on their weather radar screens, even at night. They can be flown around. If one is over the airport when we get there we will "hold" away from the airport and wait for it to pass. And pass it will.
Like I said, rest assured. The best insurance you have is that the pilots have "skin in the game". They are not going to take risks that affect you or, perhaps more importantly from their point of view, them.
Enjoy your flight, and don't worry about the weather. The guys/gals up the front of the plane will do that for you… and that's what you are paying them for.